The Phoenix Area's Leading Garage Door Repair Company
A Garage Door and Commercial Service Company You Can Trust
Fix It Now Garage Doors, LLC understands the importance of providing excellent customer service in all we do. We are the garage door repair company Tempe relies on when there is a problem with a commercial or residential overhead door. Many businesses have also discovered the benefits of our wide-ranging commercial services. Whatever the need, we are certain you will be glad you called Fix It Now.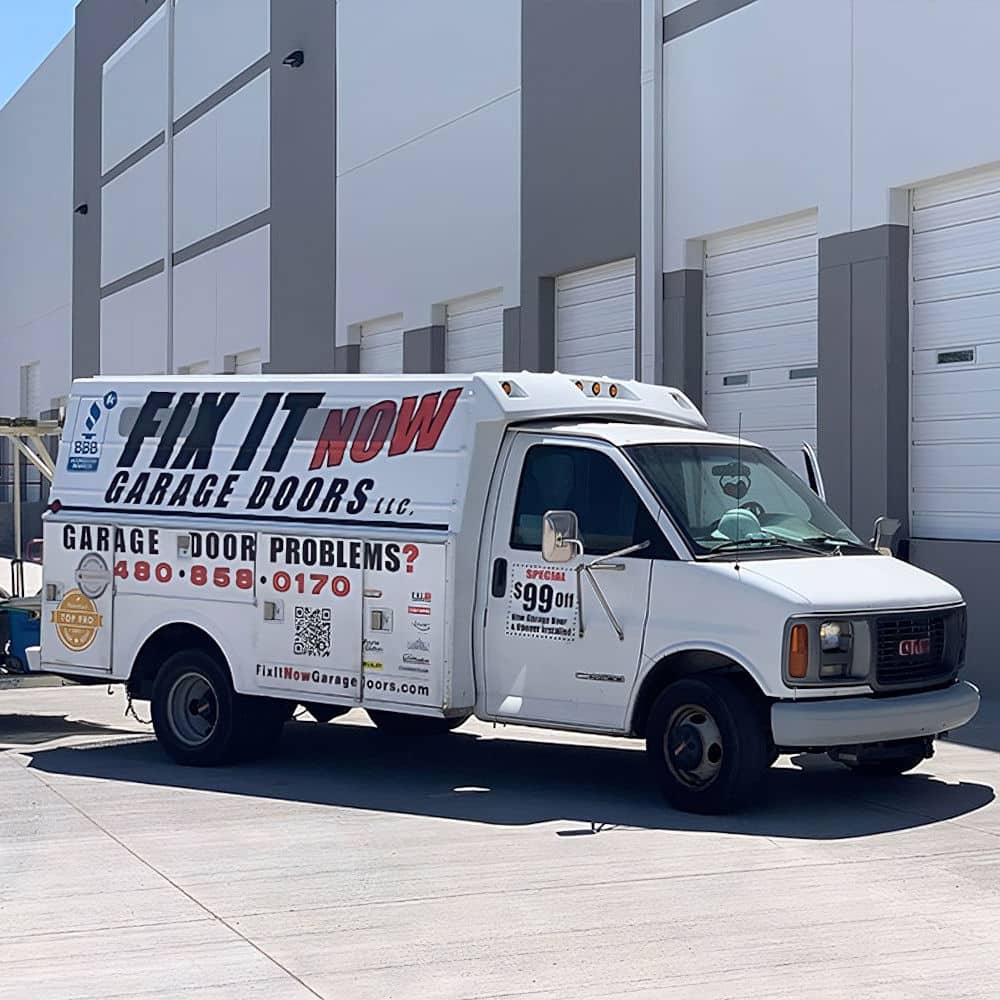 Providing Quality Service Since 1991
Fix It Now Garage Doors, LLC is a local company in Tempe, AZ operated by a team of experienced technicians. With more than 35 years of experience in the industry, we know we provide some of the best quality products and services in the area at a fair price. We stand behind every sale, treat each customer with respect, and honor every commitment we make. Our services include commercial, industrial, and residential garage door installation, dock levelers, emergency repairs, and forklift services. We provide these services not only in Tempe but also Scottsdale, Phoenix, Chandler, Fountain Hills, Cave Creek, and surrounding areas! 
If you are searching for a team of contractors that you can trust for the job, call us. We take the time to get to know our clients and build lasting relationships with them. Over the past three decades, we have helped hundreds of our neighbors with their unique garage door needs and plan on helping many, many more. Call us today to get started! 
Fix It Now offers commercial solutions and expert garage door services for residential and commercial properties, with emergency repairs at no extra cost. 
Commercial services from Fix It Now will keep your loading docks running at peak efficiency. Our team will make your loading and unloading process faster and safer.
For unsurpassed residential and commercial garage door services, Fix It Now is the company you need. We specialize in safe torsion spring replacement, and we supply emergency repairs at no extra charge.
See What Clients Have to Say About Our Services
Fix It Now Garage Doors LLC are awesome. They responded quickly to my request and not only fixed our bay doors but also our dock. We also had a new opener installed. Thank you guys! I so appreciate your professional work and reasonable prices.
Tim and his crew just finished installing my new garage door. What a great job and at a very good price. I had several quotes and Tim's was the best, plus he was the most professional. He was prompt in coming out for the quote and was very good at letting me know what to expect and kept in touch throughout the project. The door is beautiful and makes my whole house look better.
I called up Tim at Fix It Now Garage Doors for a quote and he came right out. He provide the quote timely and we set up the time to come out and fix it. He was courteous, prompt, flexible and reasonably priced. It was an overall great experience
Tim was awesome! I have a door that's hard to get parts for and he gave me honest feedback that he wouldn't have the panel to fix it right and that I would need to contact the manufacturer. I couldn't get the door down and he came out with the truck and crew and got the door down free of charge. Awesome honest small business that is hard to come by these days. Any garage door needs Tim's the man. He was honest on pricing when other companies were quoting outrageous prices
Tim and his team did an amazing job on installing a new garage door for us. Our old garage door fell apart suddenly leading to us worrying about security and Tim was able to help us right away. He went above and beyond while providing the best quote compared to other companies. I definitely recommend him and will go to him if needed again.
Referred to us by a friend, and for good reason! Tim was fantastic! He quickly diagnosed the issue and quoted a price, then arrived early the next day for repairs. He found that there was more damage to the unit, quoted us a fair price and had the new opener installed the next day. His crew were friendly and professional, and Tim called immediately to follow up. 10/10 would absolutely recommend Fix It Now!
Had a fantastic experience hiring Fix It Now for my garage door replacement. Tim is truly an expert, trustworthy, and fair. I will continue to use Fix It Now for the foreseeable future and recommend to anyone who needs garage door repair. You won't find better in the valley. First class experience and very pleased. Thank you!!
Tim responded within minutes of our initial call for help. Before stopping by our home, Tim sent a link of garage doors to choose from. We knew what we wanted quickly and after he took measurements, we were scheduled for install. He arrived on time and was very neat, clean and professional. We highly recommend Fix-It-Now garage door service to everyone.
Tim was so helpful and kind! We were able to make an appointment in a really timely matter and he was so accommodating. He did extra work on our grange door for an extremely fair price. I really appreciate it! 10/10 recommend.
Call Our Reliable Garage Door Repair Company
Does your garage door need attention? Could your loading dock benefit from some of our services? We would be thrilled to work with you. Contact us today!